Is Standing Desk Healthier than Sitting Desk?
Posted by MAIDESITEDESK
Standing desks have occupied a large market share for years, people who use them know the advantages. For those who would like to give standing desk a try wants to know them well before buying. As a professional standing desk manufacturer, Maidesite will answer the question raised by many people:
Are standing desks healthier than sitting desks?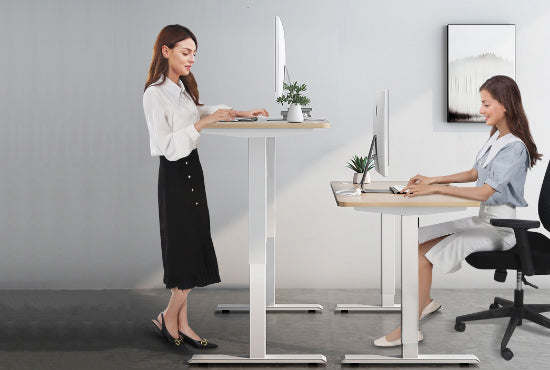 The best answer to it is to list the advantages of standing desks as follow:
Reduce Risk of Cardiovascular Disease
Scientific evidence that sitting is bad for the cardiovascular system goes all the way back to the 1950s. Since, scientists do lots of researchers and found these secrets:
Adults who spend two more hours per day sitting have a 125% increased risk of health problems related to cardiovascular disease, including chest pain and heart attacks.
Other work has found that men who spend more than five hours per day sitting outside of work and get limited exercise were at twice the risk of heart failure as those who exercise often and sit fewer than two hours daily outside of the office. Standing at work really helps a lot to reduce heart-related health problems.
Reduce Risk of Cancer
A handful of studies have suggested that extended periods of sitting can be linked with a higher risk of many forms of cancer. Breast and colon cancer appear to be most influenced by physical activity (or lack thereof): a 2011 study found that prolonged sitting could be responsible for as much as 49,000 cases of breast cancer and 43,000 cases of colon cancer annually in the U.S. But the same research found that significant amounts of lung cancer (37,200 cases), prostate cancer (30,600 cases), endometrial cancer (12,000 cases) and ovarian cancer (1,800 cases) could also be related to excessive sitting.
The underlying mechanism by which sitting increases cancer risk is still unclear, but scientists have found a number of biomarkers, such as C-reactive protein, that are present in higher levels in people who sit for long periods of time. These may be tied to the development of cancer.
Lower Long-Term Mortality Risk
Because of the reduced chance of obesity, diabetes, cardiovascular disease and cancer, a number of studies have found strong correlations between the amount of time a person spends sitting and his or her chance of dying within a given period of time.
A 2010 Australian study, for instance, found that for each extra hour participants spent sitting daily, their overall risk of dying during the study period (seven years) increased by 11 percent. A 2012 study found that if the average American reduced his or her sitting time to three hours per day, life expectancy would climb by two years.
These projects control for other factors such as diet and exercise—indicating that sitting, in isolation, can lead to a variety of health problems and increase the overall risk of death, even if you try to get exercise while you're not sitting and eat a healthy diet. And though there are many situations besides the office in which we sit for extended periods (driving and watching TV, for instance, are at the top of the list), spending some of your time at work at a standing desk is one of the most direct solutions.
If you're going to start doing so, most experts recommend splitting your time between standing and sitting, because standing all day can lead to back, knee or foot problems. The easiest ways of accomplishing this are either using a desk that can be raised upward or a tall chair that you can pull up to your desk when you do need to sit. It's also important to ease into it, they say, by standing for just a few hours a day at first while your body becomes used to the strain, and move around a bit, by shifting your position, pacing, or even dancing as you work.
Maidesite is professional ergonomic intelligent furniture manufacturer. With our senior design team, credible sales team, precise R&D center and large-scale production base, we provide high-quality custom order service to meet all the individual needs.
Referal: Five Health Benefits of Standing Desks by Joseph Stromberg 2014
Collection 2019
Sale 70% Off
Title for image