The most intimate Father's Day gift guide in 2021
Posted by MAIDESITEDESK
Father's Day is approaching, are you still worrying about Father's Day gifts? What kind of thoughtful and practical gifts should I buy?

Please hurry up and collect this most intimate Father's Day guide of 2021.
1, SKG Neck Massage Apparatus ($60-$150)
Nowadays, everyone likes to play with mobile phones but ignores the damage to our spine caused by long-term bowing. A neck spine massager with significant effect is very necessary. SKG electric neck spine massager, constant temperature hot compress technology, low-frequency pulse massage.

Although the mobile phone is addictive but also pays attention to the health of the neck.
2, PHILLIP Razor ($50-$300)


Philips razor, easy to shave without harming the skin, making your father more clean and handsome! Cool dad must love this thoughtful present from you.
3, Leather Wallet ($20-$200)


I believe that every father will carry a wallet with him, which contains his ID card, bank card, cash, and a family portrait.

Therefore, it is also a good choice to send a carefully selected wallet on Father's Day base on your budget, $20-200 are all works.
4, Audio-Technica Record Player($100-$300)
Whether it is stormy or sunny outside the window, we will enjoy that wonderful time exclusively.  A record player can bring a romantic atmosphere to the whole family.
The Audio-Technica record player is a fully automatic belt-drive, Bluetooth output machine. It is of great value, and cost-effective.

If your father is a romantic and nostalgic person or enjoy hi-fi music, don't miss it!
5, MAIDESITE Electric Height Adjustable Standing Desk ($199-$500)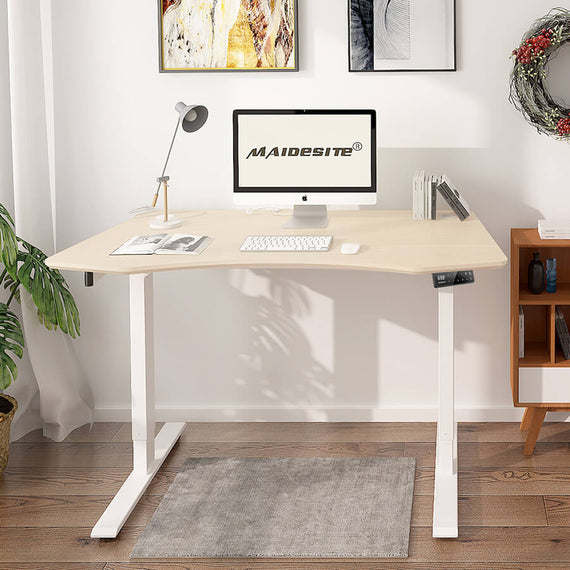 Long-term sitting may cause obesity, back pain, heart problem.  Sitting and standing alternately, it helps to promote blood circulation and relieve pressure on the lumbar spine.
Maidesite
electric standing desk
uses an environment-friendly top. The frame is made of cold-rolled steel pipes, it can raise and lower smoothly. I advocate sitting and standing alternate office work, and establish a new way of healthy office work.

If your father works from home, this sit stand desk is great for him, he will have more spare time to play with you.
6, Hover-1 Titan Electric Self-Balancing Hoverboard Scooter ($178-$250)

Nowadays, more and more people begin to use the balance bike as a transportation tool, and its convenience is well known. The Hover-1 Self-Balancing Hoverboard Scooter can reach a maximum speed of 7.45 miles per hour and a maximum driving distance of 8.4 miles.It can automatically maintain a level and can be used normally on the sand, uphill, or grass.

Your cool dad must love it!
7, COACH Briefcase ($200-$800)


The style is simple and atmospheric, and the built-in capacity is large. It can hold various documents and wallets. It is very convenient for your father to carry this briefcase to work or travel. Be prepared for your dad if he will back to office after the covid.
8, Ipad Air Pro ($500-$900)


Our father is getting old and his eyesight is not as good as before. Compared with mobile phones, Ipad has a larger screen, which makes it easier and clearer for fathers to watch movies and news.
9, Iphone 12 ($700-$1300)

Many middle-aged and elderly people have begun to learn to use smartphones. Send your father a new mobile phone, your father will be more up-to-date with the trend of the times. Parent-child communication will be more convenient and more intimate.
10,  BOSSCARE Massage Chair ($1000-$2000)


The massage chair can massage every part of the body so that father can effectively relieve muscle fatigue and relax the mood after one day hard work.
Which gift you like most and will send to your father? Comment and let us know your father's day ideas.
Collection 2019
Sale 70% Off
Title for image